We offer customized training solutions for your organization
>
COLLABORATION
+
EXPERTISE
+
FLEXIBILITY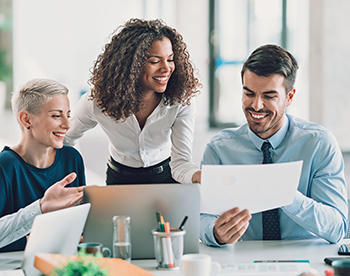 The Continuing Education of the Université de Moncton has the expertise and experience to help you meet your staff's training needs. Our offerings are developed and adapted to meet your organization's goals and objectives and we aim to stay on top of the latest trends.

Our highly versatile team is able to design professional development trainings specifically targeting your organization's employees.

All of our trainings can be offered on our premises, in your workplace, online or virutally (Microsoft Teams or Zoom).
Two turn-key learning options are available:

WE DEVELOP
Working closely with our experts, we develop trainings that are aligned with your organization's unique reality and your employees' specific needs.

WE ADAPT
We adapt our existing offerings to more effectively meet your organization's needs.
Whichever option you choose, our team supports your organization from start to end, understanding and meeting your requirements from development through delivery of your training activity. Using our services, you can be confident that you are providing stimulating and rewarding experiences to your employees.
Learning approach
Our approach is based on adult education principles. The learner is at the center of our training approach. Various means are used to involve the learner in his or her learning through previous experiences and knowledge by taking part in discussions, case studies and interactive activities. The content of our trainings are developed based on concrete and practical examples related to the field in order to promote the transfer of new skills in the workplace.
In addition to offering flexible learning solutions, save time, resources and money, some of the advantages of customized training are :
solve problems specific to your organization ;
strengthen your employees' sense of belonging ;
promote a smoother integration of the management practices acquired during the training ;
motivate your staff to create a positive work atmosphere;
implement concrete actions to help you achieve your organization's strategic objectives;
improve collaboration between your employees when they return to work.
6 Step Process to Training Design and Delivery
| | | | | | | | | | | |
| --- | --- | --- | --- | --- | --- | --- | --- | --- | --- | --- |
| | | | | | | | | | | |
| Identify needs | | Develop objectives | | Plan and prepare | | Develop training materials | | Deliver training | | Evaluate and adapt |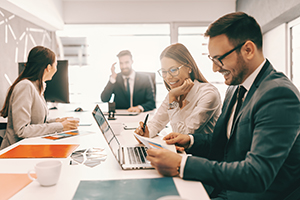 > Our team has a sound history of expertise and innovation in areas including :
Training and program development&nbsp
Content creation in a range of disciplines&nbsp
Instructional design
Coordination and logistics&nbsp
Organization of conferences and events
Delivery using cutting-edge distance learning technologies&nbsp
Evaluation and adaptation
>We develop and deliver professional development content in the form of programs, workshops and online courses in subject areas including :
Personal and professional skills
Communication and languages
Learn French - French as a second language
Leadership and management
Marketing
Health
Technology
Organizations we had the pleasure to work with: