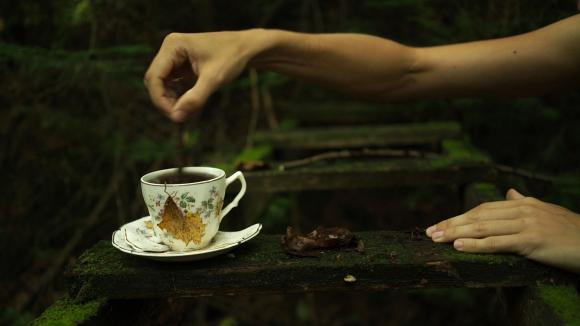 Mariana Lafrance, À boire sans soif (extrait de la vidéo), 2016
FR
Territoire (land) est une exposition qui réfléchit au territoire dans le contexte de l'histoire coloniale du Canada.
L'environnement audio-visuel de l'œuvre Agencements d'Antoine Amnotte-Dupuis met en scène la majesté du paysage boréal et subarctique de la Baie-James. Cet environnement typiquement « canadien » nous incite à constater le sentiment d'appartenance lié à cette nature et aux notions de territoire qui s'y rattachent.
L'installation interlacings de Hannah Claus s'inspire d'un tapis de William Morris, célèbre designer de textiles britannique. Dans une ronde animée, l'artiste substitue les anneaux aux motifs fleuris du tapis par des compositions de plantes comestibles indigènes au territoire de la Nation autochtone Secwepemc.
Dans l'œuvre de Mariana Lafrance, une tasse de thé en porcelaine dans un paysage boisé fait l'objet d'une investigation et engendre des réactions qui s'enchaînent. À boire sans soif est une allégorie vidéo qui pose un questionnement sur le bagage ancestral du colonialisme.
Trois paraboles en images qui suggèrent une réflexion sur la notion de territoire et de souveraineté dans un contexte de prise en compte de notre passé collectif.
EN
Territoire (Land) is an exhibition that focuses on land in the context of Canada's colonial history.
The audio-visual environment proposed in Antoine Amnotte-Dupuis's Agencements, features the majesty of the boreal and sub-arctic landscapes of Baie-James. This typically ″Canadian″ environment triggers sentiments of belonging to this vast nature and questions related notions of territory.
Interlacings, an installation by Hannah Claus, is based on a carpet by celebrated British textile designer, William Morris. In an animated sequence, the artist substitutes the rings of flowered motifs with compositions of edible plants indigenous to the Secwepemc Nation's traditional territory.
In Mariana Lafrance's piece, a porcelain teacup in a wooded landscape is the object of an investigation which instigates a series of reactions. À boire sans soif (to drink without thirst) is a video allegory that questions the ancestral baggage of colonialism.
Three image-based parabolas that suggest considering notions of land and of sovereignty in the context of reckoning with a collective past.
http://antoineadupuis.wixsite.com/portfolio