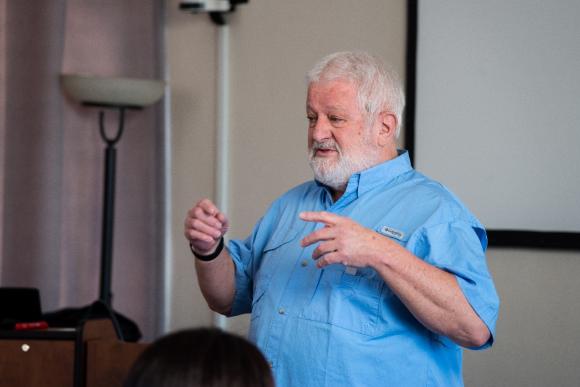 This program is comprised of 10 workshops and is organized in such a way as to enable a gradual acquisition of knowledge and skills.
1. Personal Manager Profile: Insights®Discovery
The Insights®Discovery module consists of a detailed personality analysis inspired by the work of Carl Jung. By answering an individual questionnaire, you will obtain valuable information on your management style and communication style, while benefitting from practical advice that will allow you to better understand the different behaviors of your work colleagues. By the end of the module, with a better understanding of how you and your colleagues function at work, you will be able to refine your ability to work in a team.
Objectives
Understand your unique personality.
Understanding and anticipating the behaviors of your work colleagues.
Develop your interpersonal skills in order to improve your personal and professional relationships.
Implement new communication techniques to solve issues that occur within work teams.
Apply this new knowledge to your role as a manager.
2. Teamwork and Leadership
Workplace performance management is often assessed in terms of employee efficiency. However, the manager does exert a great influence in this matter, sometimes more so than any other individual. Employees admit that their immediate supervisor's level of integrity determines in great part their commitment and motivation in the workplace. This session will address managerial behavior in the implementation of integrity. By the end of this training, you will be able to recognize integrity-based behavior demonstrated in leadership and teamwork, apply the principles of integrity when communicating and understand how integrity can impact colleague motivation.
Objectives
Recognize behaviors founded on integrity in leadership and teamwork.
Develop leadership skills that will allow you to positively influence your employees' performance.
Understand how integrity can influence your colleagues' motivation.
Recognize the required behaviors to create and manage a high-performance team.
Apply the principles of integrity when communicating.
3. Optimizing your Team's Potential: Health and Well-Being at Work
*New*
Mireille Demers offers a dynamic and interactive training session consisting of theories, questions to reflect upon, discussions, and experience sharing. During this full-day training session, you will gain awareness of the concepts of mental health and wellness in the workplace with the specific goal of allowing your team to reach its full potential and you to thrive as a manager. In order to promote the health of your employees and the performance of your work groups, the success factors and risk factors will be presented in 3 parts: individual, relational, and organizational. The topics addressed will include: lifestyle habits, emotional intelligence as a manager, interpersonal pollution for employees and leaders, the notion of congruence of perceptions, coherence and social support, and effective strategies to promote a healthy and optimal place of work.
This training session allows managers to be better prepared to eliminate the factors of "interpersonal pollution" and to promote health and wellness in the workplace as well as employee, work group and organizational productivity.
Objectives:
This training session will allow you to…
Become aware of the challenges associated with mental health issues in the workplace;
Understand the individual, relational and organizational factors related to the health, wellness and performance of employees and work groups;
Become more familiar with the success factors and risk factors associated with health and performance in the workplace;
Master the effective management strategies in order to reduce mental health issues and promote the wellness and productivity of employees and work groups.
By the end of this training session, the participant will be able to…
Name the challenges related to mental health issues
Analyse his or her workplace and identify problem areas
Establish adapted strategies to solve problematic situations
Promote strategies that foster healthy workplaces, employee health and wellness, and work group effectiveness
4. Managing Human Rights Issues
People in New Brunswick, as in the rest of Canada, are protected against various forms of discrimination, and human rights laws are legal instruments used to enforce compliance with these equality rights. This module will provide an overview of the characteristics protected by these laws, intervention sectors and the applicability of the legislation to your work environment. Through practical examples, participants will understand the principles of accommodation and undue hardship as well as various issues in terms of the rights and responsibilities of employers and service providers.
Objectives
Understand the characteristics of discrimination protected by the human rights laws.
Become aware of the various issues associated with protected grounds.
Understand the rights and obligations of employers and staff on the different grounds.
Select and develop the tools you need to facilitate the management of employers' obligations.
Ensure that differences become an added value within your team.
5. Lean Six Sigma - White Belt
Over time, an organisation's operations evolve in response to changing markets, employee turnovers and sectorial constraints. The reality of continuous change, in turn, leads to modifications to the value chain. These modifications, which may indeed be viewed positively, can detract from your organization's strategic goals. As a result, operational costs increase, deadlines are extended, and internal and external customers' satisfaction diminishes. This happens for a simple reason: the bigger picture is not taken into account before the value chain is modified. This workshop will enable you to improve your organization's operations and ensure that your improvement plan is aligned with your strategic plan. Chain optimization will allow you to understand your current situation and determine your potential for improvement. It will also allow you to rapidly identify solutions to eliminate any sources of waste in your production process.
Objectives
Understand the principles of the LEAN process and the notion of added value
Identify opportunities for improvement in your workplace
Determine solutions to eliminate any form of waste in your processes
6. Creative Management
In the past years, several studies have shown that the most innovative organizations are also the most profitable ones. There seems to be a correlation between innovation, low employee turnover and high job satisfaction. In this regard, informed managers notice that they have to promote creativity within their teams. This module will first explore why innovation is important within organizations, both private and public. Using a model, you will examine the various management and organization styles that best help to grow innovation and creativity, while acquiring specific tools and techniques to promote creative thought.
Objectives
Discover how the work environment can benefit from innovation and creativity.
Identify organizational styles and modes of managing existing staff.
Clarify which organizational and personal styles best support creativity.
Define the most common distinctive features of creative people.
Apply creativity techniques to various problems that occur in the work place.
7. Prevent and Manage Conflicts
When the same people have been working together for a number of years, conflict is certain to arise in the workplace. When these conflicts remain unresolved, they can become extremely costly for both the individual and the team. For this reason, it is always a good investment to provide training with respect to the skills and techniques required to prevent and resolve conflict in the workplace. In this module, you will examine your personal strategies for preventing and resolving conflicts, identify how you intend to use your assets and list conflict resolution strategies that you will be able to put into practice at work.
Objectives
Become aware of the different sources of conflict.
Recognize your role as a manager in conflict management.
Master several conflict management strategies.
Apply the behavior evaluation method in conflict situations.
Choose the best tools to use according to the conflict situation you aim to resolve.
8. Effective Delegation and Positive Confronting Techniques
What happens if the manager does not immediately address an individual's inadequate performance? How can one separate the person from his or her work, being courteous and respectful with the individual, while leveraging the work well done? This delicate balance between tact and constancy of effort requires a very good understanding of the method, good practice and the ability to give and receive positive feedback.
This two-part workshop will allow you to hone your supervisory skills with tools that will help you better interact with your employees to obtain results.
Objectives
State the nature and the importance of a task and define the expected results.
Book follow-up meetings and agree on the level of frequency and intensity of the monitoring.
State the boundaries of authority devolved.
Understand the six-step process that will transform the undesirable situation, while preserving the integrity of the individual involved.
Identify ways of engaging staff to become much more receptive to feedback and more likely to change their approach, encouraging them to minimize toxic behaviors, and be part of a more peaceful, productive and courteous work atmosphere.
9. Change Management: Overcoming Resistance
This workshop is designed to ensure that you have the knowledge and skills to effectively lead and support change initiatives. It is based on research and best practices that are then translated into practical and proven strategies for success in the workplace. Particular emphasis is placed on the work of John Kotter, one of the leading authorities on change management principles and practices.
Objectives
Articulate a vision for a change initiative.
Develop and implement a change management plan.
Identify and address resistance to change.
Engage and empower people to act.
Institutionalize the change.
10. The Multigenerational Workplace: Challenges and Opportunities
*New*
Today's workplace presents never seen before generational differences. What consists of a multigenerational workplace and why is it important? What does it mean to you as a manager?
Four multigenerational groups are present in most organizations. These differences are significant and often cause issues that warrant careful consideration. Understanding the particularities of each generation and knowing how they complement each other can be a challenge for any manager.
Practical examples and interactive case studies will help you learn how to efficiently deal with your multigenerational workplace, as well as learn how to maximize the potential of every member on your team.
Objectives
Recognize the characteristics of the different generations working in today's workforce.
Develop a better understanding of the preferences and values that motivate the four multigenerational groups.
Learn how to better adapt management and leadership approaches to the particularities of each generation.
Determine strategies to ensure that generational differences become an added value within a work team.
Learn how to maximize the potential of every member of a multigenerational team.